Miller Park Milwaukee
History of Miller Park
Miller Park, sponsored by the Miller Brewing Company, was opened in 2001 to replace Milwaukee County Stadium. Built as one of the "new breed" stadiums with a retractable roof, Miller Park has been lauded for all of the great amenities that it has to offer for fans. The stadium was built with controversy as the funds for the $290 million bill comes from a sales tax increase of 0.1% in five counties in and around Milwaukee. After a delay in construction due to a roof collapse, the field was finally ready for baseball in 2001. After coming from arguably one of the least popular baseball stadiums, Milwaukee County Stadium, Miller Park has gotten rave reviews since its opening in 2001. Rated as one of the top baseball stadiums in the big leagues, Miller Park was the first retractable stadium in Wisconsin history and was voted a fan favorite by an ESPN poll in 2010. The Milwaukee Brewers hosted the Cincinnati Reds on 04/06/2001 to open Miller Park under the roof. This game featured a ceremonial first pitch from President George W. Bush and MLB commissioner Bud Selig.
Miller Park Capacity
Besides being home to the Milwaukee Brewers, Miller Park has also hosted several other high-profile events. The 2002 MLB All-Star Game was held at Miller Park in only its second year of existence. Some of the biggest crowds in Miller Park's history came from the concerts that have taken place. Farm Aid's 25th Anniversary concert took place at Miller on 10/02/2010 and had such artists as Neil Young, Willie Nelson, John Mellencamp, and Dave Matthews. Also, Bruce Springsteen and the E Street Band, Elton John, Bon Jovi, and Kenny Chesney have all sold out Miller Park. The current Miller Park capacity is 41,900, with the record attendance at Miller Park being 46,218 for a game versus their bitter rival, the Chicago Cubs. The average attendance for Miller Park during the current baseball season is just over 32,000 per game.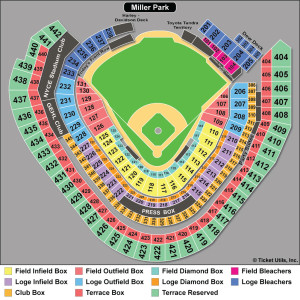 Field Dimensions of Miller Park
Miller Park is one of the more pitcher-friendly ballparks in Major League Baseball, ranking at #27 out of 30 for runs scored in 2014. Couple this with a low home run rate of 0.990 a game, and Miller Park is a pitcher's best friend. Compared to other MLB parks, Miller Stadium is pretty middle of Left Center 371 feet, Right Center 374 feet, and Center Field 400 feet. The difference is the long lines that Miller Park has at 344 ft. in Left Field and 345 feet in Right Field, which is longer than the average MLB baseball stadium.
Miller Park Amenities
Miller Park is known to have some of the best amenities in the league and has gotten high praises from home and visiting fans alike. Here is some of our favorite.
Bernie Brewer is still a fan favorite at Miller Park after having an illustrious career at Milwaukee Fulton County Stadium. While he no longer slides into a giant beer mug, he does still his traditional home run and victory slide into a home plate area.
The retractable roof is one of the few in all of baseball and the signature of Miller Park. Due to poor weather for a good portion of the season, this retractable roof makes all home games enjoyable for Brewers fans regardless of the outside conditions.
Miller Park is one of the most cost-effective parks in all of baseball. Sports Illustrated rated Miller Park as the best ballpark based on the value per dollar spent out of every baseball stadium in the league.
Miller Park Food
Milwaukee is known for two things beer and brats, and Miller Park doesn't disappoint with either of these choices. Wisconsin is home to some of the best food in America, and a lot of it is on display at Miller Park. Let's take a look at our three favorite places to chow down at this great stadium. The Brat Boys - Miller Park is the only baseball stadium in all of MLB where bratwursts outsell hot dogs, and the Brat Boys is the major reason. Offering various bratwursts such as Polish, Italian, and Mexican chorizo sausage, this place is the king of the bratwurst in MLB. Make sure to try the Brat Boys "secret stadium sauce," as this highlights the greatness of these fine sausages. Ribbie's Café - For those who have already had their fair share of hot dogs and brats at the tailgating parties, Ribbie's Café offers a bit of a different menu. Two of the favorites are the chicken brisket and the delicious cupcakes. Ribbie's cupcakes are to die for and among the best desserts in any baseball stadium on the planet. Palermo's Pizza - One thing we always check out at ballparks is the pizza. While many have the standard frozen pizza, Palermo's offers some of the best frozen pizza known to man. While Miller Park's bratwursts are the staple, their pizza is also a decent choice. We recommend a slice of this pie as your warm-up when you enter the park so you can save room for your 7th inning bratwurst.
Overall
Milwaukee is just one of those Midwestern towns that love their baseball team. While the "Brew Crew" went for years with mediocre teams over the last 20 years, the city rewarded the team with a brand new stadium, and they didn't miss. Miller Park is one park where you can enjoy yourself and not spend a ton of money as their beer and food are very reasonably priced.