Minute Maid Park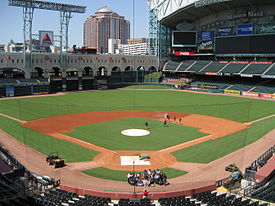 History of Minute Maid Park
Replacing arguably one of the worst baseball stadiums of all-time, the Houston Astrodome, Minute Maid Park is one of the most unique ballparks in all of baseball.
Minute Maid Park
Otherwise known as "The Ballpark at Union Station" and "Enron Field", Minute Maid Park has been home to the Astros since 2000. As Houston's first retractable roof stadium this field allows fans to enjoy both outdoor baseball games when the weather is mild and indoor games when the weather is too humid. After years of playing on the notorious Astroturf at the Astrodome, Minute Maid Park was built with natural grass. As former home to Houston's Union Station, this park pays homage to its past location as behind the left-field wall is a railway. The Astros first game at Minute Maid Park, which was then Enron Field, took place on 03/30/2000 as they defeated the defending World Series Champions the New York Yankees 6-5.
Minute Maid Park Capacity
Minute Maid Park's capacity for Astros games is currently is just over 42,000 which is an increase of about 1,100 fans from when it opened in 2000. The highest attendance ever for an Astros game took place on 04/05/2010 as they sold 43,836 to their opening day game.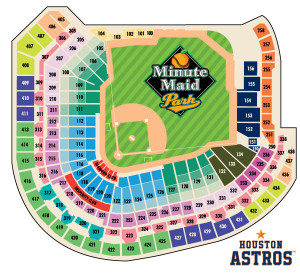 Field Dimensions of Minute Maid Park
Coming from perhaps the most "pitcher friendly" ballpark of all-time, the Houston Astrodome, Minute Maid Park is more of a "hitter's ballpark" as it has very short dimensions down the lines at 315 ft. in Left Field and 326 in Right Field. With that being said, it has the most unique centerfield in the majors and perhaps MLB history. At 436 ft. and with a 90 ft. area that is on an incline, a homerun to center field is the farthest in the big leagues. Besides the hill in center field and the short lines, left-center field features the "Phillips 66 Home Run Porch" which hangs over the field.
Minute Maid Park Amenities
While the theme of Minute Made Park is the former train station that use to occupy the area, there are plenty more great amenities at Minute Made Park. Here are some of our favorites.
Chick-fil-a is one of the largest sponsors of Minute Made Park and in 2006 they added some specialty "EAT MOR FOWL" foul poles at Minute Made Park. Every time and Astros player hits the pole; all the fans in attendance get a free chicken sandwich.
The retractable roof is an amenity in itself as it gave Houston its first taste of outdoor baseball since 1965. While the Astrodome was revolutionary at the time, it became known as one of the worst baseball stadiums in all of MLB by the 1980s.
Union Station Lobby is the main entrance to the baseball stadium and built just like the former train station.
Minute Maid Park Food
While its name comes from the juice company, Minute Maid Park also has several great spots to eat at within their ballpark. Here are the top three choices for Minute Maid Park Food.Union Station Lobby FiveSeven Grill- Named after two of the most famous Astros of all-time Jeff Bagwell #5 and Craig Biggio #7, this restaurant is one of the nicest in all of Houston. With dishes such as steak, chicken, and tilapia this is a great full-service restaurant inside Minute Maid Park. Larry's Big Bamboo- Named after former Astros manager Larry Dierker, the Big Bamboo is a favorite for fans who visit Minute Made Park. Known for some of the best wings in all of MLB, Larry's Big Bamboo has tons of "comfort bar food" that hits the spot. El Real Tex-Mex- Houston appeals to wide range of Latino fans with the El Real Tex-Mex stand in Section 132. Known for its awesome fajitas, tacos and quesadillas, this place is a Mexican food lover's paradise.
Overall
After years of bad reviews from the Houston Astrodome, Minute Made Park is a favorite among Houston Astros fans. Quite possibly the most unique park in all of baseball, this park breaks the mold of some of the "cookie cutter" ballparks built in the decade before it was constructed. The Union State train theme, and Tal's Hill in centerfield make this park a great visit for anyone in the Houston area.