Progressive Field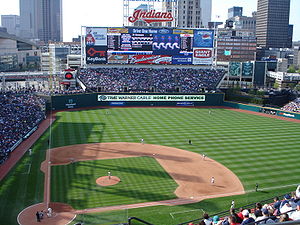 History of Progressive Field
The 1994 Season was the inaugural season for Progressive Field, previously known as Jacobs Field of "The Jake." After playing at perhaps one of the least fan-friendly venues in MLB history, Cleveland Municipal Stadium, the Cleveland Indians moved to the friendly confines of Jacobs Field in 1994 and have changed its name to Progressive Field. Since its opening, Progressive Field has been a fan favorite to Tribe fans. In fact, in 2008, the Sports Illustrated fan poll voted this ballpark the best in all of MLB. The loyal fans of the Cleveland Indians smashed the all-time sellout record at this field starting on June 12, 1995. through 04/04/2001, a record of 455 straight games. During this time, the Cleveland Indians provided their fans with much to watch as they were one of the best teams in baseball and made two World Series appearances in 1995 & 1997. The Tribe opened "The Jake" on 04/04/1994 as they defeated the Seattle Mariners 4-3 in 11 innings on a very chilly day.
Progressive Field Capacity
The Progressive Field capacity has changed several times over the year as the Cleveland Indians organization has tinkered with adding and subtracting seats to fit input from their fans. The original capacity was 42,865 from 1994 through 1996, but that has varied ever since this time, where the current capacity is at 42,487. The record attendance at this field was on October 4, 1997, during Game 5 of the American League Division Series, when 45,274 packed the stadium to see the Tribe in the post-season.
Field Dimensions of Progressive Field
Primarily known as a hitter's park, Progressive Field has been home to many historic home runs in the last 20 years. The Left Field wall, once known as "Jacob's Ladder," is only 325 ft. from home plate but has a 19' wall. Much like Fenway Park's Green Monster, this wall is a common spot for many doubles to hit off due to its short distance and high wall. The Right field wall is also 325 ft. with only 9' walls, which makes it a great place to hit for left-handed batters. Centerfield is at 410 ft. which makes it slightly longer than the average MLB center field.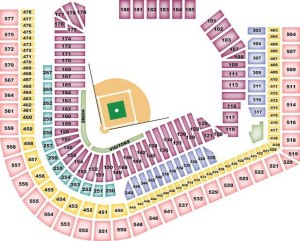 Progressive Field Amenities
Rich in history and tradition, the Cleveland Indians organization, pays great homage to its heritage. It also has something for all ages as they recently installed a "Kids Clubhouse" in May 2012. Here are some of the best amenities at Progressive Field.
Heritage Park is the Indians' "outdoor museum" that pays homage to its players from the past. A beautiful brick arrangement with various bricks that fans can purchase.
Kid's Clubhouse is a newer facility dedicates to kids. This is a great place to take the kids that get restless at the game. The Kid's Clubhouse is split up between the Rookie Suite (6 and under) and Slugger's Sandlot (6 and up). The kids also can partake in baseball activities as they have fields where they can practice.
The Indians added an "old school" bleacher section reminiscent of bleachers from the Cleveland Municipal Stadium but with a much better view. In the bleachers, John Adams beats a drum and has been doing so since 08/24/1973, only missing a total of 38 games in 40+ seasons.
Progressive Field Food
Progressive Field ranks as pretty average when compared to other MLB parks and does not have too many non-traditional restaurants at their park. With that being said, they still have many great food and beverage items to choose from and a ton of great craft beers. Here are our favorites. Terrace Club - The Terrace Club is a safety glass-enclosed facility located down the left-field line. Used for weddings, business parties, and other special events. The Terrace Club is a great place to eat on game day as they offer excellent food such as steak, chicken, and fresh fish. Burgers Loaded - Located in Section 107, the Burgers loaded food stand is among the best hamburger stands in all of MLB. The condiments separate this establishment from all others, as they are loaded with almost anything imaginable that you can put on a burger. Hot peppers, bleu cheese, bacon, onions, chili are just some of the many toppings available at Burgers loaded. Food Network Cart - Like the cable TV station, the food network cart offers an array of great food. Steak sandwiches, gourmet hotdogs, and more are the staples of this great cart. Don't forget the Bertman mustard, perhaps the best mustard in all of baseball.
Overall
The building of Jacobs Field, aka Progressive Field, happened at the perfect time for the Cleveland Indians franchise. Progressive Field changed the culture for the franchise for the better. Voted as one of the best baseball stadiums globally, this ballpark is a great place to watch a game and has been loved by fans since its opening in 1994.