Wrigley Field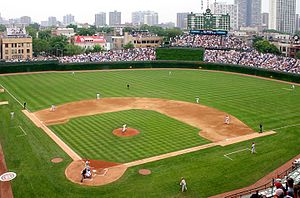 History of Wrigley Field
Perhaps the most famous baseball stadium in the world, Wrigley Field has been home to the Chicago Cubs since 1914. Originally opened as Weeghman Park for the Chicago Whales baseball team, this park eventually changed its name to Wrigley after its owner in 1927. Known for its ivy wall and bleacher bums, the "friendly confines" is one stadium that is a "must see" for any true baseball fan in their lifetime. Built for a modest fee of $250,000 this stadium has seen some of the most famous games in MLB history.
One thing that no Wrigley fan has ever seen is a world championship, as the Cubs are in the longest drought ever winning their last title in 1908 at their old stadium West Side Park home. Since this time the Cubs have played in 5 World Series and lost them all. Despite this fact, Cubs fans are among the most loyal in all of baseball and continue to pack this great ballpark each and every summer. Wrigley field, along with Fenway Park in Boston, are the two oldest and most famous baseball stadiums on the planet. Wrigley has been the setting for many major motion pictures, along with a place in pop culture as a reference.
Wrigley Field Capacity
Wrigley Field capacity has changed tremendously over the years as it started off as a much smaller venue in 1914 seating just 14,000 people. Wrigley Field currently seats 41,159 as it has expanded recently over the past few years. Plans to renovate Wrigley Field have been in negotiations by the Ricketts Family, the current owner, as they want to modernize Wrigley with a $500+ million dollar expansion. The two most popular seating venues for Wrigley are the bleachers and the rooftop seats. Prior to 2004, the rooftop apartment buildings on Waveland Avenue, which is across the street from left field, let users, sit on their rooftops to watch Cubs games. After the Cubs popularity increased in the 1990s and early 2000s the team built wind screens to prevent this free access of the Cubs games, something that wasn't popular by most of Chicago's residents. In 2004, the Cubs and the "Official Rooftop Partners" reached an agreement where they paid the Cubs for the right to view their games.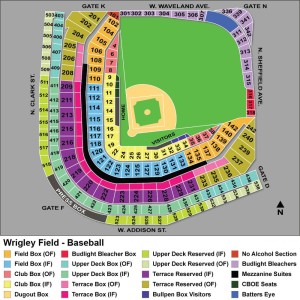 Field Dimensions for Wrigley Field
Known as one the windiest baseball stadiums in MLB, Wrigley Field's field dimensions favor a hitter friendly park with its small gaps in left-center and right-center field. The current measurements are Left field 355 ft, Right Field 353 ft. , Gaps 368 ft. each and 400 ft. to Center field. While these may look slightly far down the lines the short gaps and the wind dictate much of the action at Wrigley Field. When the wind blows out towards the fence, routine fly outs become homeruns at Wrigley. While when it blows in towards home plate, mammoth shots get caught up in the wind for routine fly outs.
Wrigley Field Amenities
Unlike many of the newer ballparks that offer many of the state of the art amenities, the main amenity at Wrigley Field is the atmosphere and feel of an old ballpark that you cannot get anywhere else outside of Boston. As far as atmosphere goes Wrigley is among the best, despite fielding bad teams year in and year out. Unlike many of the newer parks that try to appeal to more state of the art amenities, Wrigley appeals more to the "old school" baseball fan who makes their pilgrimage to Wrigley. The food is excellent, the bleachers are like no other place in the world and the feel that you get once you get to the park outweighs the lack of modern design.
With the $500 million expansion approved, many of the Cubs loyal fans feel unhappy with all of the change that is planned for Wrigley. Turning the old ballpark in to a new modern baseball stadium is something that many fans do not approve of, despite the need for extensive renovations. Click here to see the plans for the "new" Wrigley Field.
Wrigley Field Food
Wrigley has among the best food in the big leagues as many of Chicago's finest restaurants and food establishments have invested in Wrigley. Here is a pick of three of our favorites. This list could honestly be a lot bigger, but we had to narrow it down after a long discussion. Giordano's- While it is not the staple ballpark food of hot dogs and French fries, Giordano's is a MUST HAVE pizza spot if you ever go to Chicago. Chicago deep dish pizza is on a different level from any other pizza in America and Giordano's is among the best. While prices are generally high for the pizza, especially at Wrigley, it is well worth for perhaps the best pizza you may ever eat.
Decade Dogs- Decade Dogs and Giordano's were a tossup for #1 on this list, with pizza being my favorite food I went with Giordano's. Decade Dogs is an awesome hot dog establishment as it offers hot dogs from through the years at Wrigley Field. With almost every type of hot dog imaginable this place is great for hot dog lovers worldwide. If you are planning only one game to Wrigley I suggest stopping by Decade Dogs before the game and getting Giordano's a few hours later. Decade Diner/Sheffield Grill- Famous for its different Kraft Cheese recipes, Decade Diner is a favorite among Wrigley Field patrons. For those planning a weekend stay at Wrigley or a multiple game trip, I definitely recommend a dinner at Decade Diner. For cheese lovers, this might be the first stop once you hit the stadium as they are famous for their Kraft cheese dishes.
Overall
Overall the Wrigley Field baseball stadium ranks as one of the greatest fan experiences for any baseball stadium enthusiast in the world. If we had our choice for 3 baseball stadiums to visit in our lifetime, Wrigley Field would definitely be on the list. The atmosphere of Wrigley can't be matched by newer ballparks and the fans and food are both excellent.